RUSSIAN WEDDING CEREMONY
My Russian background allows me to be very familiar with Russian culture, customs and traditions. I am happy to assist the couple in all aspects of the wedding day and bring a cultural flavour to your ceremony by including the most popular and traditional elements of a Russian wedding.
I will be pleased to read greetings or poems for you and your guests in Russian.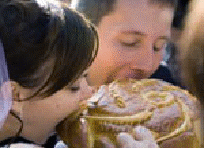 BREAD AND SALT
Bread and salt are offered to the newlyweds by both parents as a symbol of health, prosperity and long life. Both the bride and groom must take a bite of the bread and the one that takes the largest bite will be the head of the family.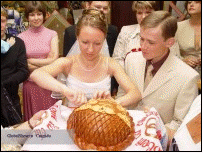 WEDDING TOASTS AND BROKEN GLASSES
At the beginning of the reception a relative or close friend makes a wedding toast to the bride and groom. By Russian tradition everyone throws their champagne glasses on the floor and it is considered a good luck if the glasses break when they hit the ground.